CASE STUDY: GBTA
Event Brief
On Opening Night of the 2016 GBTA Conference, VISIT DENVER partnered with E5 Events to welcome 5000+ GBTA Conference attendees to the only stadium in the world that is exactly a mile high, Sports Authority Field at Mile High…home of the Denver Super Bowl 50 Champions. E5 created a "Under the Stars and on the Field" experience on the same field where John Elway and Peyton Manning became legends.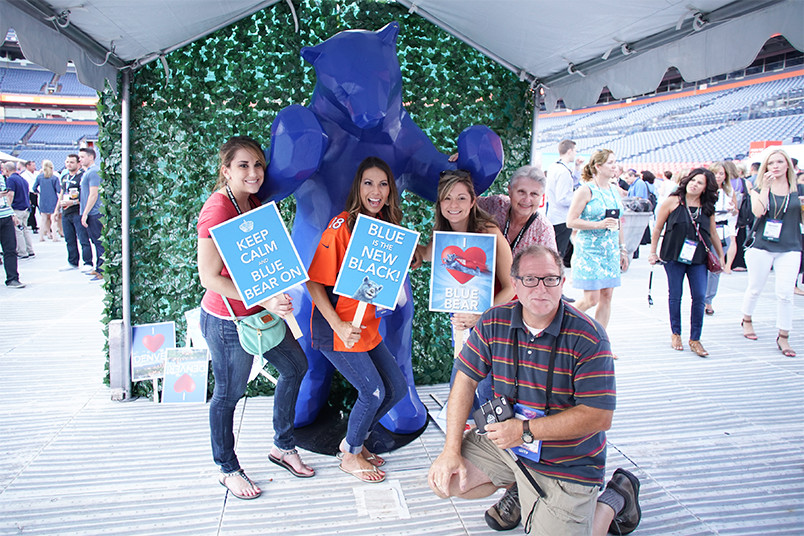 The vision of the client was to create the best tailgate party where the focus was on the venue, sports and a casual evening that highlighted what makes Colorado & Denver the best destination choice for GBTA business travel. Being on the field at the stadium is a rarity especially for groups this size and E5 wanted to build on that unique guest experience by handing out Selfie Sticks to every person as they entered. The focus of the event was now..THE GUESTS. We created Denver inspired photo vignettes for guests to share on social media, etc. E5 created event hash tags which were displayed on the jumbo tron along with live video feed of the event.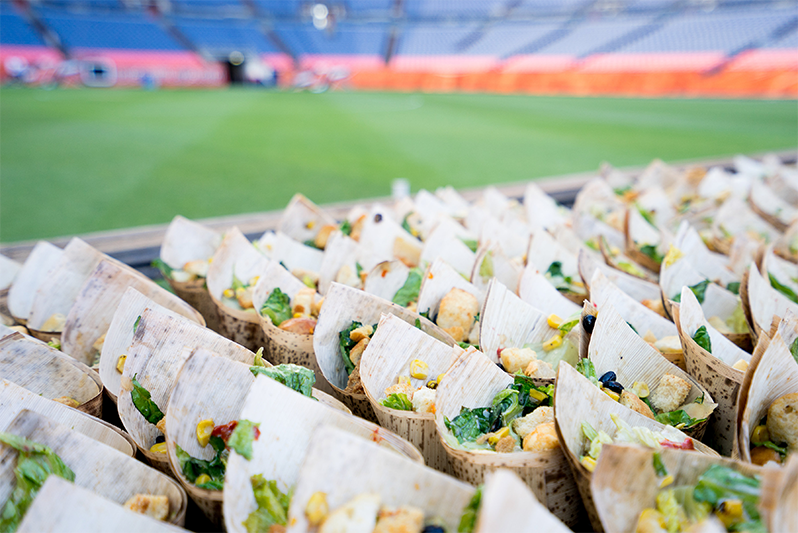 Guests were greeted with a top DJ and then danced the night away to local band, American Honey. E5 managed the event flow and schedule to ensure that an experience was happening at all times to keep guests engaged in such a large space. The Denver Broncos Cheerleaders gave a special performance and of course we had to have one last surprise…the Thunderstorm skydiving team parachuted into the stadium carrying the GBTA, Visit Denver and American flags.  Note of special interest: They did this on only 50 yards of landing space as the rest of the field was the event space. Quite the feat! Guests enjoyed testing their skills at corn-hole, armchair quarterback and some true tailgate fare to include grilling, wood fired pizza oven and Colorado's own Little Man Ice Cream delivering frozen treats on their famous bike.
Everyone from Bruce Springsteen to U2 has rocked this stadium, and GBTA did too – all with a special, Mile High Flair.
Scope of Services
Creative Concept & Delivery, Creative Input & Delivery, Vendor/Supplier Management, Venue Liaison & Management, CAD & Guest Flow Creation, Progress Updates, Create & Manage Event Timelines, Create & Manage Supplier/Vendor Load In-Load Out Schedule, Running Schedule, Create & Deliver takeaway, Manage on site guest gifts, Progress Updates, Manage Meeting Schedule, Manage Registration Set Up, Event Staff, Event Branding & Messaging, Manage & Develop Video Production, Photography Management/Shot Lists, Entertainment Management & Coordination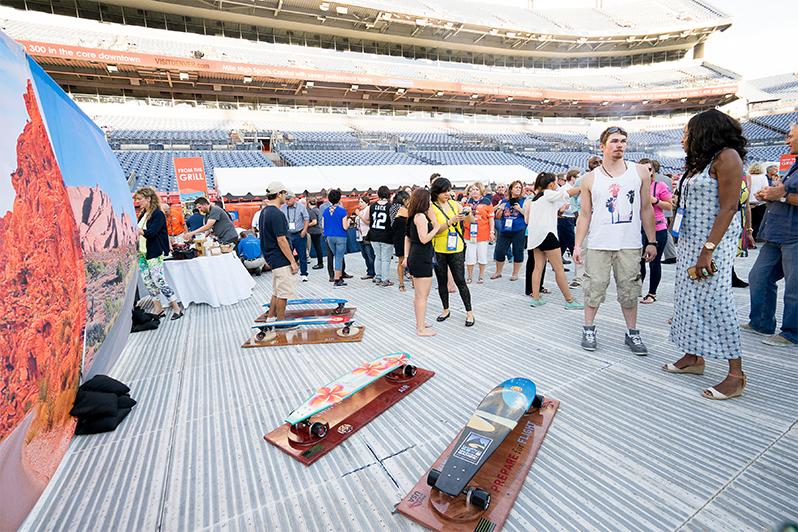 Results
Hosted 5000K+ Guests from around the world
Clients brand & message relayed to clients
Social Media presence
E5 Events Awarded The Mile High Spirit Award from Visit Denver (for event execution)
Igniting all 5 senses